At The Mall at Robinson, we are committed to the principle of sustainability. We've developed an internal sustainability road map that guides how we approach new projects, manage our existing property and how we work every day. While we are proud of our efforts, we are always working to institute new programs designed to decrease our carbon footprint, reduce waste, conserve natural resources, reduce our usage of energy and save money.
Commitment to the environment is a key concern for us and some of the innovative sustainable practices adopted for The Mall at Robinson include:
Electric Car Chargers & Solar Panels New solar energy panels are now featured above The Mall's Food Court Entrance powering four electric car-charging stations in the front of the food court parking lot. There is no cost for Mall guests to utilize the stations that were donated by Wesco & Eaton.
Solar Panel Impact:
Lighting and HVAC - Over the past eight years, The Mall has reduced their Kilowatt hours by 43% by utilizing an energy management system to program the lights and HVAC units, installing more than 10,000 LED holiday lights, installing lower wattage light bulbs throughout the center and changing ballasts.
Water Reduction - Between 2008 & 2013, The Mall reduced water usage by 54% by installing low-flow faucets, reducing irrigation usage and programming the watering schedules. Waterless no-flush urinals were also installed in the Men's restrooms, saving 1.5 million gallons of water annually.
Green Work Place Challenge- The Mall at Robinson won the Pittsburgh Green Work Place Challenge (GWC) for Medium Size Businesses for 2014-2015. GWC is a yearlong, friendly competition or businesses, nonprofits, municipalities, and universities to track and measure improvements in energy, water, waste, and transportation. The Mall reduced energy usage by 7% and water usage by 11% for the designated period.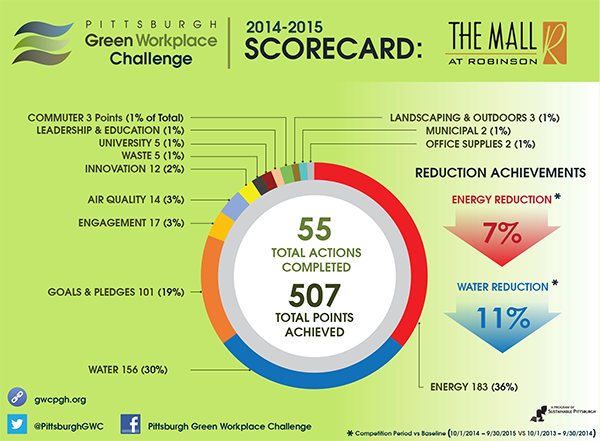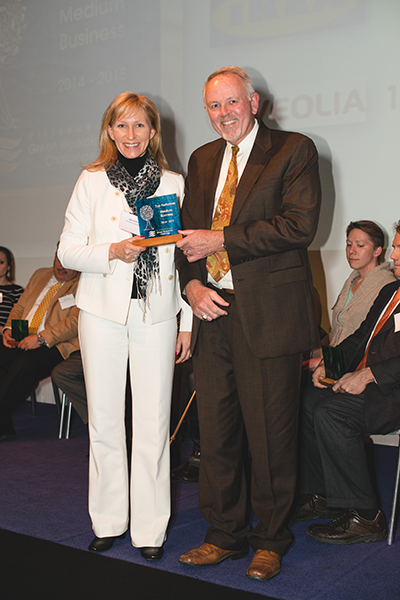 Recycling Efforts Fryer-to-Fuel Program - Waste vegetable oil is collected from the restaurants within the Mall and turned into Biodiesel which is distributed for commercial & residential use.
Energy Efficient Hand dryers were installed in all public restrooms, eliminating more than 1.2 million paper towels annually.
The Mall recycles cardboard, metal, plastic, paper, cell phones, ink & toner cartridges and wood pallets. Guests may drop off phones & ink & toner cartridges at each entrance to benefit the Greater Pittsburgh Community Food Bank and paper in the Abitibi container in Service Court #3 to benefit the American Heart Association.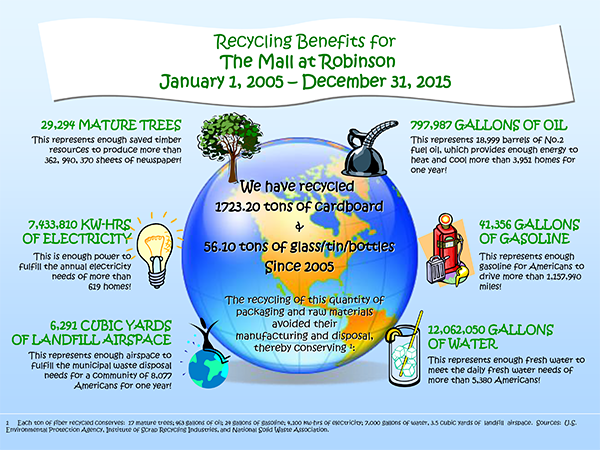 The Mall at Robinson staff strives to emulate community spirit that both defines and unites our region because we've seen how much is able to be achieved when our businesses, our residents and our charities combine efforts. We all share in the benefits of working with purpose.
Annual Hard to Recycle & DEA Drug Take Back Event - In partnership with Pennsylvania Resources Council, The Mall has assisted 3,382 residents and collected 127 tons of e-waste, 1,750 lbs. of paper, 2,567 lbs. of batteries, 543 CFL's, 1,100 tires, 283 appliances, 700 cubic ft of Polystyrene, 183 propane tanks, 36 gallons of oil and 4,500 lbs. of items for Construction Junction to repurpose.
Sustainable Pittsburgh - Sustainable Solutions - The Mall at Robinson, with the help of Sustainable Pittsburgh, embraced a complete and comprehensive sustainable development strategy that balances environmental resources, economic objectives and social systems in the operation of the Mall.
Earth Day Celebration - The Mall at Robinson spearheaded a nation-wide sculpture contest in which local art students illustrated waste volume with dramatic exhibits constructed out of 836 plastic water bottles, the average number used by a family of four in one year. The Mall continues to host annual earth Day initiatives.
Art Gallery Display - The Mall hosted a gallery exhibit titled: Hot Spots: What Comes After Oil, a multi-national dialog and exploration of the past, present and future of oil, created by design students attending American University in Dubai, Zayed University (Dubai), Hochschule Munich, and The Art Institute of Pittsburgh addressing the question: What Comes After Oil?
Community Day - Community Day is a day of service that brings together Forest City associates from across the country to provide much-needed help to nearly 80 agencies and charitable organizations nationwide that provide critically needed services in our communities.
Community Support - The Mall at Robinson is committed to supporting charities that the people of Pittsburgh embrace. For example, the Western Pennsylvania Humane Society credits our partnership for the adoption of more than 1,000 animals. Beyond that, we host regular events to benefit Make A Wish Foundation, the American Heart Association, Boy Scouts, Girl Scouts, The Education Partnership, The Salvation Army, Operation Troop Appreciation, Susan G. Komen for the Cure Pittsburgh, Greater Pittsburgh Food Bank, CANstruction, UPMC Children's Hospital and many more.
We consider the Mall at Robinson to be a center of daily life and family tradition in the region. We take every opportunity to educate our guests about the importance of small decisions they can make to improve our collective impact on the environment.